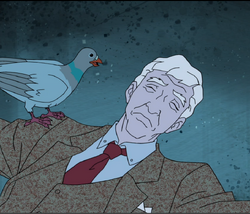 John Hoyer Updike was an American novelist, poet, short story writer, art critic, and literary critic.
Updike's most famous work is his "Rabbit" series (the novels Rabbit, Run; Rabbit Redux; Rabbit Is Rich; Rabbit At Rest; and the novella "Rabbit Remembered"), which chronicles the life of the middle-class everyman Harry "Rabbit" Angstrom over the course of several decades, from young adulthood to death. Both Rabbit Is Rich (1982) and Rabbit At Rest (1990) were recognized with the Pulitzer Prize.
In the episode The End, John Updike is revealed to have been transformed into a Chupacabra. He kills Miguel before Mike Tyson and Cormac McCarthy defeat him to reveal his true identity.